What does this Premium Package include?
The premium dog testing package includes a combination of three easy-to-use canine tests which are:
1. Dog Allergy Test
2. Dog Breed Test
3. Dog Genetic Age Test
Below please find a brief description of each one of these tests.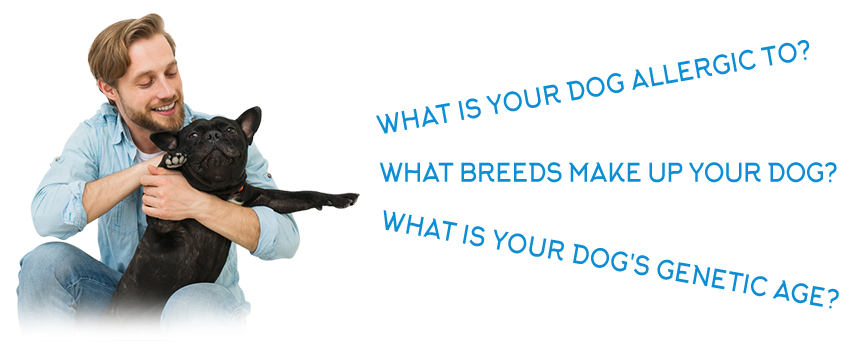 Dog Allergy Test
Dog Allergy testing tests the proteins within a dog's system to identify their reaction to more than 100 allergens listed HERE, covering not only common foods and supplements but also daily household products which may result in being harmful to the dog. The test also provides helpful instructions to assist the dog owner in obtaining suitable foods, products and other items that their dog's immune system shows no allergic reaction to. By learning the dog's reaction to certain allergens, the owner will be able to change and improve multiple aspects of their life, being it the dog's diet, accessories or home environment.
Dog Breed Test
Using just a cheek swab sample, Dog Breed DNA testing analyses the dog's unique genetic makeup to determine their breed mix. The breed composition is identified by referring to a database containing the DNA profiles of 95 of the most prevalent breeds of dogs found in mixed breeds dogs. In addition to the full breed composition, this test provides a report on the personality traits, exercise routines and behaviours to expect from each individual breed. A step by step guide of the illnesses and health problems that could plague the dog's particular breed mix is also included!
Dog Genetic Age Test
Dog Genetic Age testing also requires a cheek swab sample and identifies a dog's age at a genetic level by measuring the length of their telomeres, the protective caps at the end of each chromosome that tend to shorten with age. Biological age gives insight into the health situation, and predicted longevity of the tested dog. For instance, a dog which had a life of medical issues might have a higher than average biological age. Through this test, dog owners are able to determine the dog's actual age when it is not known, take control of the ageing process by carrying out lifestyle or dietary changes and recognise signs of potential health risks such as heart disease.
Pricing and Turnaround Time
All of the above dog tests are being offered for the discounted price of €182. In addition, the results for this premium package are available within only 2 to 3 weeks and sent by email!
Please take into account that turnaround time starts from the moment samples reach the laboratory.