Ancestry DNA Testing: Unravel Your Roots and Genealogy
If you are curious about your ancient family history and origins, the technology now exists to find the answers to your questions. Using our DNA ancestry test you can find out that which no hard record such as those found in the Irish National Archives or government Records Administration can enable you to discover. Ancient ancestry DNA testing is here to help you unravel your deep origins whilst searches into national archives, government records and other such documents can help you trace your more recent ancestors.
Click here to read A Beginner's Guide to DNA Ancestry Testing which compares the different types of ancestry DNA tests we offer.
Important: Please note that EasyDNA does not provide a raw DNA result file of this ancestry test.
How does ancestral testing work?
DNA ancestral origins testing is possible due to many exciting, recent advances in the world of DNA testing. Using your unique DNA profile, a comparison is made against the global populations of hundreds of separate groups and 14 distinct anthropological regions. These populations have had their unique genetic makeup studied and scientifically validated to be able to make precise comparisons with your DNA. Using high resolution mapping, you will be able to learn from which population groups and anthropological regions your genes have been passed down. Using our detailed mapping, your ancestral origins are very easy to interpret and understand.
Ancestral Origins™: your personal DNA ancestry map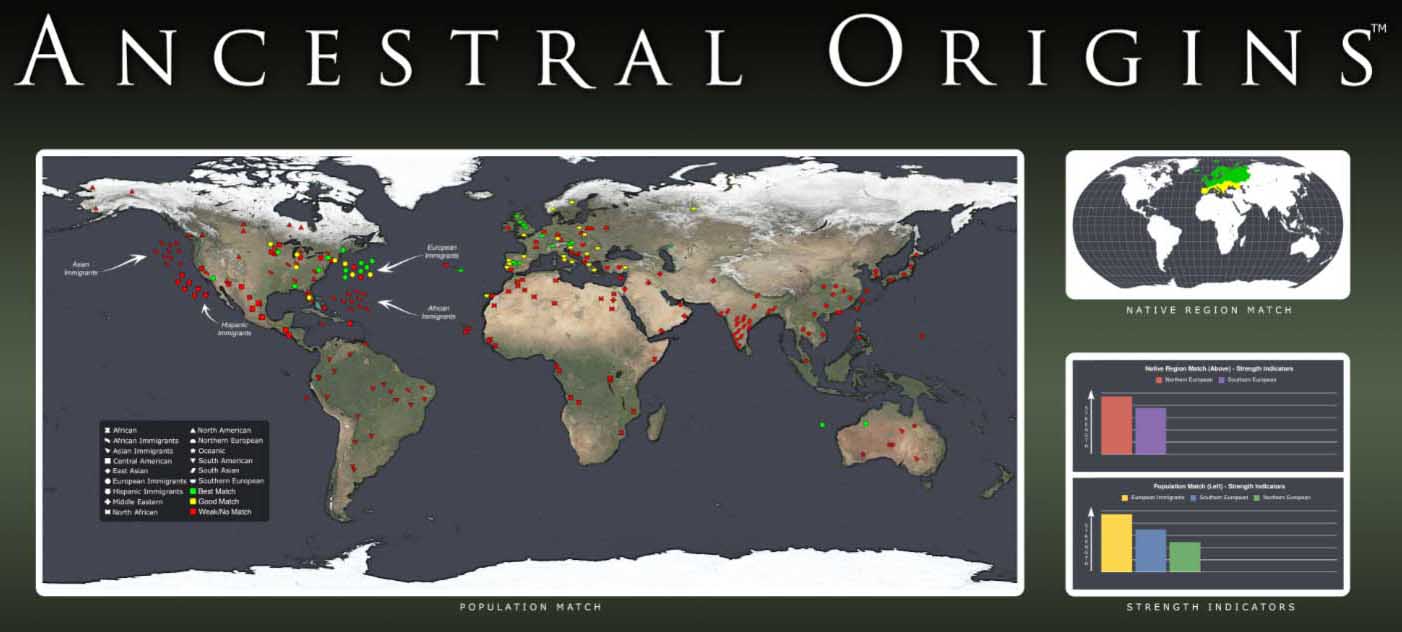 EasyDNA's Ancestral Origins™ DNA Ancestry map is divided into three distinct sections: Population Matches, Native Region Matches, and Strength Indicators.
 DNA ancestry testing results
Strength Indicators: The strength indicator demonstrates your commonality with the different regions in the FoGG genetic database in a numerical form. The strength indicator shows how significantly you are related to a group of persons from a particular geographical region.
Native Region Matches: A separate comparative analysis is also performed which attempts to connect your genetic makeup with your anthropological native regions and provide you with the results. Using different comparison models helps us provide a more accurate answer to your Ancestral Origins™.
Population Matches: EasyDNA provides the most comprehensive DNA ancestry test in the marketplace comparing your unique DNA makeup with every available source and database to indicate how strongly your DNA matches with those of other populations. Our simple color coded result system will display varying degrees of commonality your DNA shares with other regional populations. Take a look at the DNA Ancestry map HERE.
Ancestral origins upgrade: take your test a step further
For just an additional €40 you can find out even more about your ancestry. If you opt for this upgrade, you will have a pie graph certificate and a report which will elaborate your ancestral roots even further, with a genetic breakdown by percent. The list of population databases will indicate the closest matches to your unique DNA profile within each region. Click below to see the added report and pie chart.

Begin unearthing your ancestral roots today
Your personalized Ancestry Origins DNA test will be given to you in a 17×10.6 inch sized map. This high resolution map is printed on high quality photographic paper which can be saved or displayed in your home or office. Your ancestral origins are completely unique to you; for this reason each print is labeled with your name, stating that the map was "Exclusively prepared for ….".

Professional Consultation
We offer a professional telephone interpretation once you receive your Ancestral Origins™ DNA Ancestry map and report. Consultation sessions are up to 15 minutes in length and are provided by telephone only. If ordered at the same time as submitting your samples for testing, the advanced purchase price per consultation session is €90. This service can be purchased after you receive your map for €100 per session. Consultation sessions may not be recorded or reproduced without the expressed written consent of EasyDNA.
Our Database
DNA ancestry testing is only now possible due to exhaustive research and data compilation from scientific sources from around the world. The process and initiative to build a population pool of DNA data comes from various intellectual bodies, institutions and print publications including Forensic Science International and The Journal of Forensic Sciences, the Yale School of Medicine, and even our collected DNA data. This invaluable combined data source is referred to as the "FoGG DB" or the Focused GeoGenetic Database. The vast amount of genetic information helps us run cross- check comparisons with your DNA to determine which populations are DNA most closely resembles.
Other tests: GPS Origins™
GPS Origins™ is our most advanced ancestry testing service. This test is able to pinpoint the origins of your ancestors to the finest degree. It can help you discover what countries, cities or islands your ancestors came from through a new ancestry tracking tool known as the Geographic Population Structure (GPS). Read more about our GPS Origins™ Test.